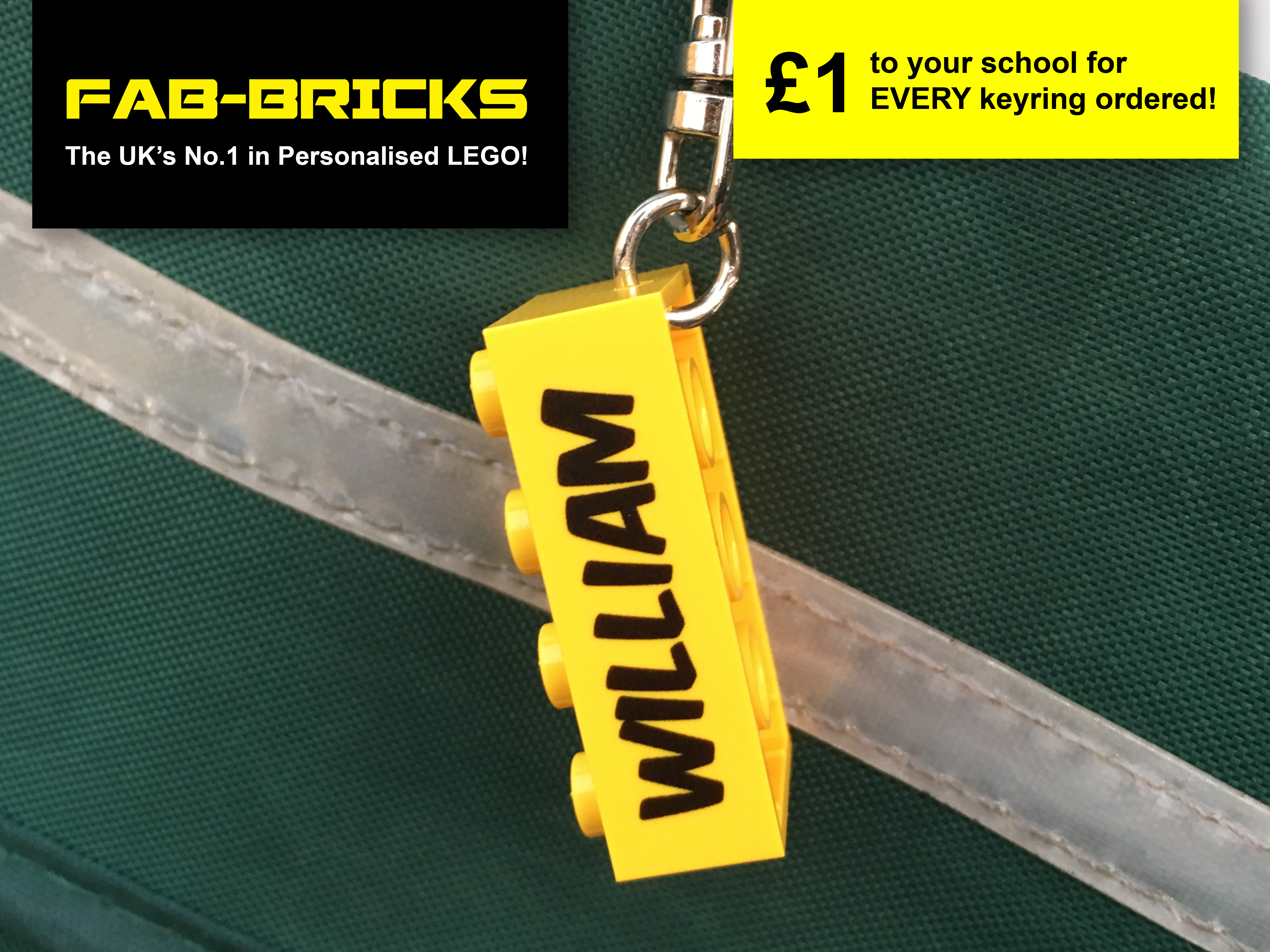 ORDER A DISCOUNTED PERSONALISED BRICK KEYRING/BAG-TAG THROUGH YOUR SCHOOL & RAISE FUNDS AT THE SAME TIME
We're delighted to offer you a great deal on our personalised brick keyrings, whilst helping your school, nursery or preschool PFA/PTA raise valuable funds. Order through your school for just £3.25 each, thats a discount of 50p off the normal price of £3.75 and for each one you buy, your school receives £1.00!
Links and downloads:

FAQs
Overview
We appreciate that schools are busy places and that members of a PTA committee are often a dedicated and hard-working few, with lots of other commitments in their lives! With this in mind, we have tried to keep our fundraiser as simple as possible, to enable you to raise as much money as you can without having to put in a lot of time and effort. So here's how it works:
You tell us how many children are in your school, nursery, club or setting and we will send you the same number of leaflets. Each leaflet will have a label on with specific instructions that your PTA decides, (this includes, where to leave form and payment, if you are happy to take cheques then whom to make them payable to, the deadline date for parents returning slips and any other important information you would like to make parents aware of) and will have a detachable return slip on the bottom to make ordering easy for the parents. Once the end date has passed you simply collect in the completed slips and return the orders to us, either by post or via e-mail (on a spreadsheet). We then complete the keyrings and return them to you along with the invoice for the number of keyrings you have sold X £2.25.
What do the leaflets look like?
You can see the leaflet and an example of a label here.
How long is it best to leave the leaflets with parents for?
We have found that it schools tend to get a better response when the scheme is run for just a 2/3 weeks. Much longer and the order forms may get forgotten. However, you know your school best, so it is totally up to you. When setting your end date, remember to allow about a week to receive your leaflets from us.
How long does it take to receive the leaflets?
We send them out within a couple of days of you confirming that you would like to go ahead and you informing us of the address you would like them delivered to. We tend to use MyHermes courier to send the leaflets and their delivery time is 2-4 days, so allow about a week.
What costs are involved?
We pay to send you the leaflets and for the return of the completed keyrings to you. The only cost that you may incur is when sending the completed order forms to us in the post. This can be avoided by e-mailing the orders over in a simple spreadsheet, which can be downloaded here.
Where do I send my completed order slips?
Our address is:
Fab-Bricks Ltd, 62 Bristol Road, Chippenham, Wiltshire, SN15 1NS
Or e-mail the completed spreadsheet to [email protected]
How long will we have to wait for our personalised keyrings?
Once we have received you completed order (slips or spreadsheet), we aim to return your completed orders within 1-2 weeks.
Are the keyrings labelled when Fab-Bricks return them?
YES! We want to make the whole process as simple as possible, so to help you sort and distribute quickly and easily, we return the orders to you with either the original order slip back into the ziplock back with the keyring, with the name/class showing, or if you e-mail the orders back then we label each individual bag with name/class.
Do you use genuine LEGO® bricks?
YES! All our bricks are brand new and 100% genuine LEGO®!
What happens if there is a mistake on a keyring?
We check everything before we send them to you, but we are human! If we do happen to make a spelling error, use a different font to the one requested or use the wrong colour brick, then just e-mail us at [email protected] with the details and we will send a replacement out straight away.
How many characters can be put on a brick?
We suggest a maximum of 15 characters, and this includes spaces. However, if you have noticed an order with a couple of extra characters, don't panic! We will make it work just fine. The recommendation of 15 characters on the form is there as a guide and also to prevent you from getting asked the question by parents.
How do I pay?
Once we are ready to return your order, we will send you an e-mail letting you know that we are dispatching your keyrings and an invoice will be attached. We will also enclose a hard copy of the invoice with your order.
You can either send us a cheque, made payable to Fab-Bricks Ltd, to:
Fab-Bricks Ltd, 62 Bristol Road Chippenham Wiltshire SN151NS
Or transfer payment to: A/C No: 40007989 Sort Code: 09-01-28
What about VAT?
Each keyring sold will cost the school £2.25 and that price is inclusive of VAT.
If you have any further questions about our School Fundraiser then please contact us on [email protected] or telephone 01249 464884 and we will be very happy to help. Thank you.